Today we're talking about how to make–get this–homemade chocolate chips!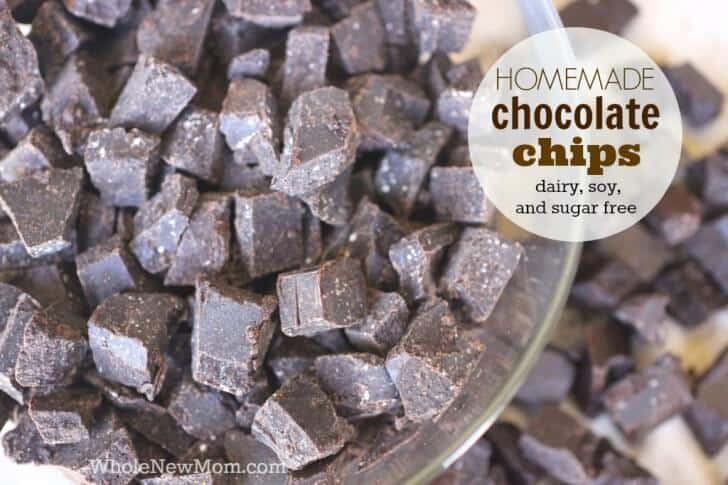 Ever since my son was diagnosed with life-threatening food allergies, baking became a challenge. I really wanted to make him special treats occasionally but some ingredients like chocolate chips were hard to find without dairy in them.
As time went on, dairy-free chocolate chips showed up in the stores, but their price was a little prohibitive for a frugal shopper like myself. (And allergy-free white chocolate chips are still pretty much non existent.)
Please see Homemade Chocolate | Carob Chips -~ Improved for the updated version of this recipe. This version is still good, but the new ones are GREAT!
If you are, like us, on a special diet where you need to avoid
dairy
sugar, or you wish to avoid
trans-fats
artificial or natural flavorings that are often in store-bought chips?
And maybe you just can't stomach the price of store bought specialty chocolate chips? Like those ones that cost about $4.50 for a measly 10 ounce bag? Ouch!!! Or perhaps you're in the middle of baking and have run out of chips and need some more…..
For years I tried to find a recipe for homemade chocolate chips or homemade carob chips that would work.
Finally I have one.
Thanks to the basics from a fellow blogger who writes about special diets, I finally have a recipe for homemade chocolate chips. 
This week on Maundy Thursday, I thought I'd make a dessert to take to our church's Passover Seder so that my family would have a healthy dessert alternative. Well, the cookies that I tried from Affairs of Living's site didn't turn out so great (though the other kids at our table surprised me by eating a number of them and to be fair, I did alter the original recipe a bit due to dietary restrictions), but the chips sure were a success. I'll have to make another go at the cookies another time.
This post may contain affiliate links from which I will earn a commission.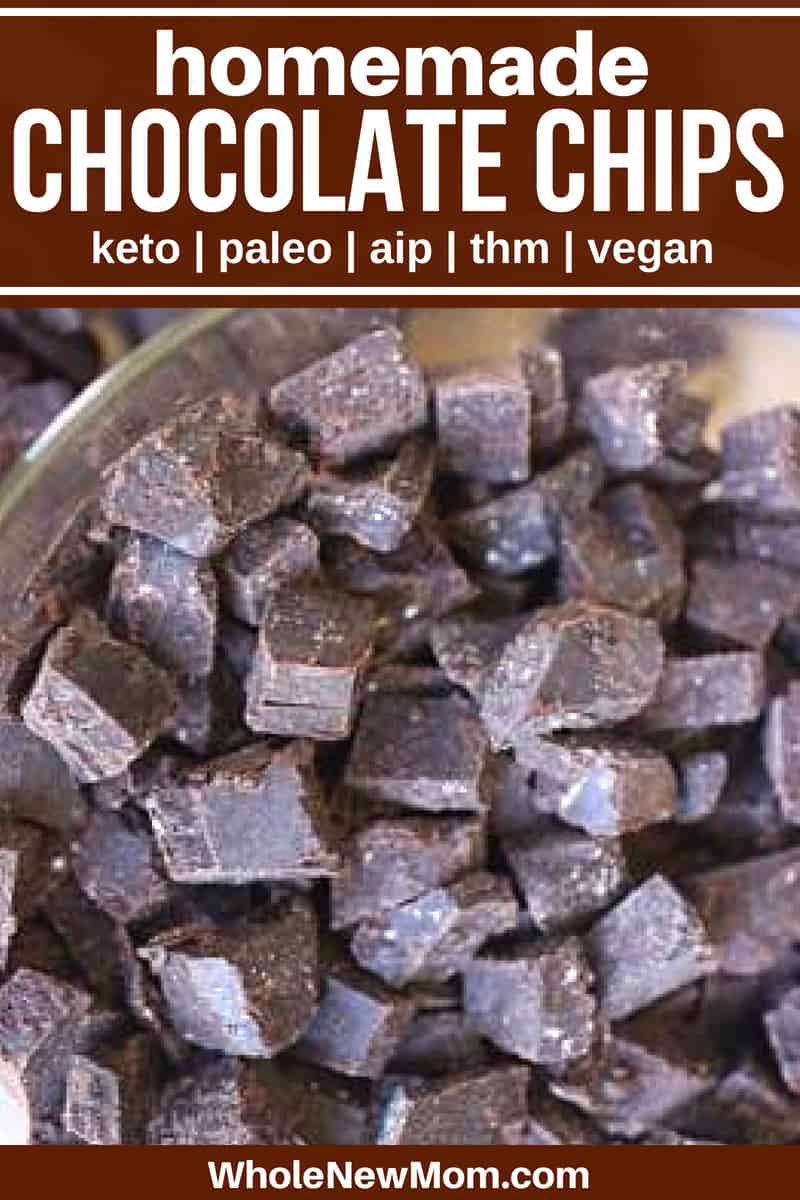 Homemade Chocolate or Carob Chips
What You Will Need
(Check out my New and Improved Recipe for a richer taste and better oils to use!)
Recipe Notes and Substitutions for Homemade Chocolate Chips
Chips Holding Together: These chips may or may not hold up in baking. Some of it appears to be the time of year when you bake. It also appears to be due to the type of recipe. They held up great in my Grain-Free Coconut Chocolate Macadamia Cookies, but, as you can see from the comments, for some readers they didn't work so well.
Try using this cocoa butter instead of the coconut oil for chunks that hold up better. And stay tuned – I will have a new recipe soon that's tastier!!
Multiple Batches: Though this recipe yields approximately 3 cups of chips, I recommend making more than that. True to my bulk baking style, I recommend making a double batch and storing the extra in your freezer for future baking or munching :-).
For more information on stevia and how to use it, check out this post. It includes measuring helps.
Cocoa: For more health benefits, use organic raw cacao instead of cocoa, or use organic carob (I prefer roasted) for AIP.
Xylitol: Any healthy sweetener can be substituted for the xylitol. Low-carb options besides xylitol include 1/4 cup organic erythritol or 3 scoops (3/32 of a tsp) stevia extract, or to taste. For AIP, use honey, maple syrup (read Choosing Maple Syrup), or sucanat. If you use a liquid sweetener, you may need to use a different amount, so read this post for tips on substituting sweeteners.
THM: For those on the Trim Healthy Mama plan, this recipe is an "S."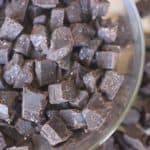 Homemade Chocolate or Carob Chips
These Homemade Chocolate Chips (or carob chips) are dairy, soy, and sugar-free and great for baking, trail mixes, or eating right out of the bag!
Instructions
Melt coconut oil over a very low heat. Remove from heat. Stir in carob, sweetener, and vanilla. (If you heat over too high of a heat or don't remove from the heat, the coconut oil will separate from the carob when cooling. You can still eat it, but it won't be as smooth.)

Pour mixture into a pan (8x8 works well).

Place in refrigerator or freezer until solid. Remove from pan, and cut into chunks of desired size with a good, solid knife.

Store in a cool place such as the fridge until ready to use.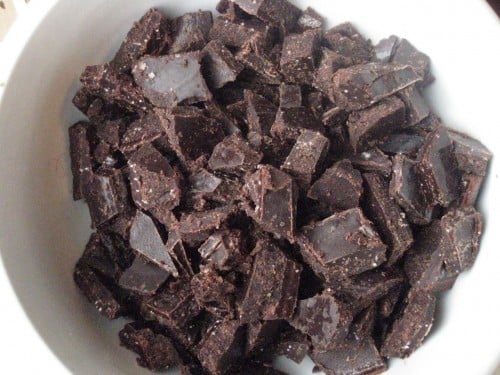 Of course, you can use these in chocolate (carob) chip cookies, or eat them plain. Either way, if you are using a healthy sweetener, then you have a great way to get coconut oil into your diet.
This past Sunday I didn't have any good take along snack options for my kids, so I opted for soaked and dried almonds and these chips instead. They loved it! Kind of a crazy breakfast, but it worked.
Well, with special diets and whole foods, you can and should think out side the box a bit. For another "crazy" breakfast that I serve to my kids sometimes, check out my Silky Bean Fudge recipe.
How would you use these homemade chocolate chips?